Here's the top 15 beaches and islands in Thaniland that you have to visit if you planned to visit Thailand one day:
Prachuap Khiri Khan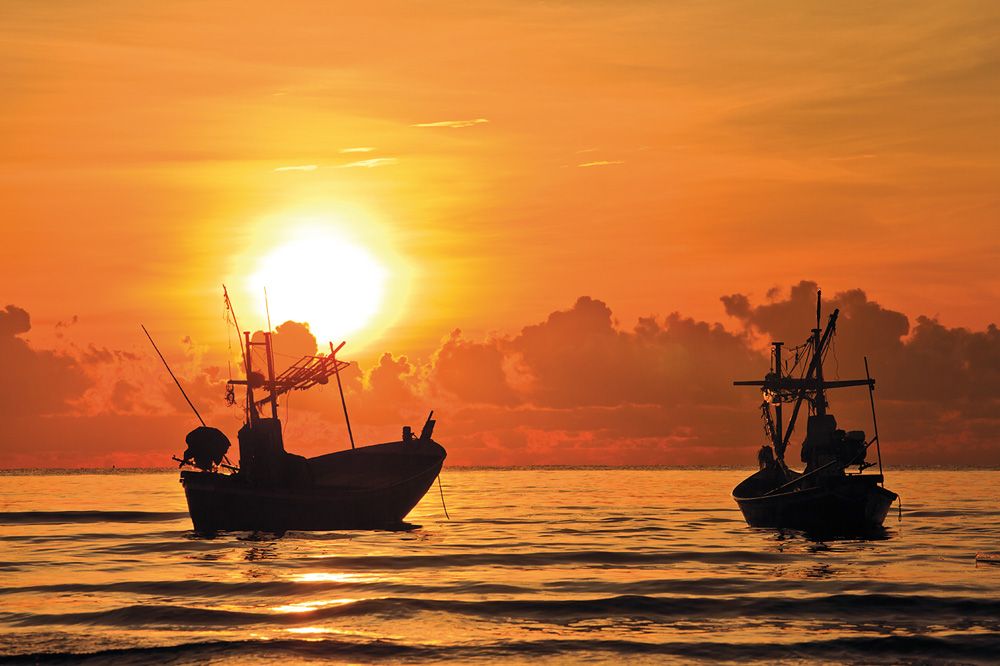 A delightful throwback to the time when Thailand's beaches were crowd-free and fishing boats rather than jet skis bobbed on the waves, Prachuap is set around a series of beautiful bays and surrounded by karst outcrops and fine beaches. Nightlife means a leisurely drink overlooking the ocean, and the seafood is some of Thailand's tastiest and cheapest. Best of all, Prachuap is so laid-back that almost everyone who visits ends up staying far longer than they anticipated.
Richelieu Rock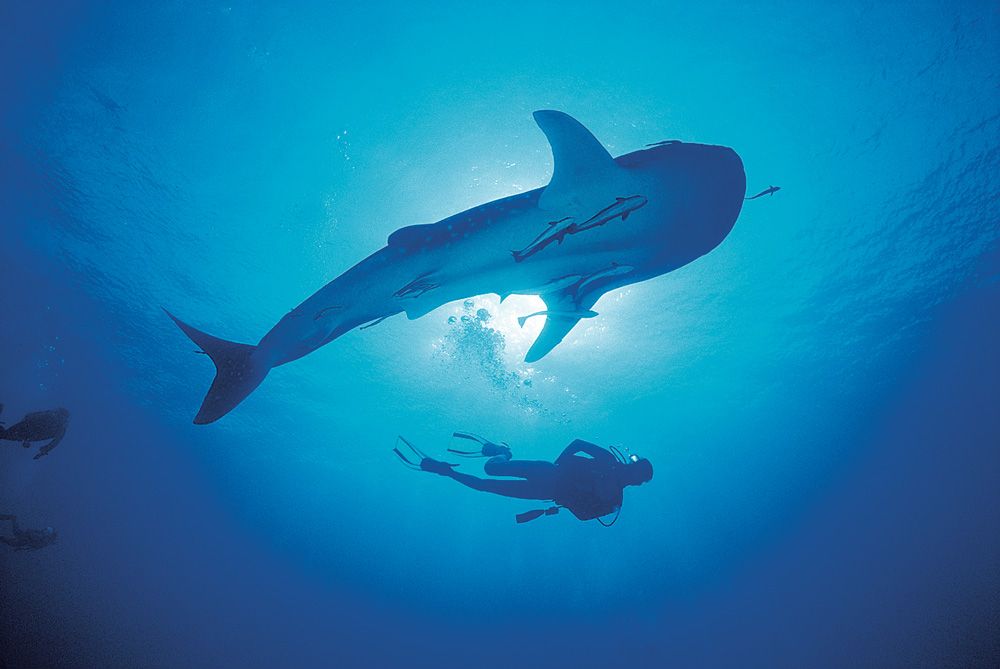 The world-renowned dive sites dotting the crystal seas of the Surin and Similan Islands Marine National Parks are some of the best spots in the country to strap on a scuba mask and dive deep. The ultimate prize, however, is distant Richelieu Rock, accessible only to those who venture north towards the so-called Burma Banks on a live-aboard diving trip. The horseshoe-shaped outcrop acts as a feeding station luring manta rays and whale sharks.
Ko Ratanakosin, Bangkok
The artificial island of Ko Ratanakosin is the birthplace of modern Bangkok but it's also among the city's most atmospheric 'hoods. Home to the bulk of Bangkok's must-see sights, such as the Emerald Buddha, Wat Phra Kaew, and Wat Pho, Ko Ratanakosin also holds several low-key treasures, including the hectic amulet market and the delightful Museum of Siam. Approach it via a scenic trip on the Chao Phraya Express Boat, then link the sights on foot for an atmospheric walking tour.
Ko Samui
Eager to please, Samui is a civilized beach-resort island for the vacationing masses, many of whom fly in and out having made hardly any contact with the local culture. Reserve a resort, then let them do the thinking for you. If this sounds boring, there are still sleepy spits to the south and west, reminiscent of Samui's old moniker, 'Coconut Island', that are easy to get to. Explore the thriving health scene with yoga, meditation and detox retreats to enhance your relaxation.
Ao Phang-Nga
While other visitors squeeze onto speedboats to get blurry glimpses of Ao Phang-Nga National Park's spectacular limestone tower–studded bay, sea-kayakers get to enjoy it in slow silence. Cavort with flying lizards, banded sea snakes or helmeted hornbills. Glide past rock art inside sea caves, picnic on secluded beaches and swim in silky water. Yes, a few boats will whiz by, but for the most part, you 'll just enjoy the music of your paddle rippling through the water. At nightfall, become enchanted with the bay's famed bioluminescence.
Ko Lipe
Hat Pattaya on Ko Lipe is a perfect arc of the whitest white sand with long-tails bobbing in its azure bay, busy seafood barbecues spread out on the foreshore and fit folks playing volleyball through the day. Quieter Sunrise Beach is more golden and stretches on till it curves at the sight of majestic Ko Adang across the blue. If you tire of one beach, it's a short walk over the small hill to the other, or explore trails for more hidden swathes of sand.
Ko Chang
The rugged landscape of Ko Chang conceals some of Southeast Asia's best-preserved wilderness. The island's craggy mountainous interior is home to a veritable Jurassic Park of flora and fauna; the hills are cut with rivers and waterfalls. The abounding biodiversity includes exotic reptiles, colorful birds and even some friendly elephants, and plenty of guides are available to help you find them. Although developers have snared all of the attractive beachfront real estates there are some sand-fringed nooks in the east and south that feel decidedly off the beaten path.
Ko Lanta
By motorbike or túk-túk, getting off the tourist beaches of Ko Lanta is a ticket to a wonderland of friendly Muslim fishing villages and gentle jungle scenery. Don't miss Ban Ko Lanta with its Wild West–era streets and arty shops, then continue down the east coast that's been little influenced by tourism. For a dose of natural beauty, Mu Ko Lanta Marine National Park is hard to beat – and there are plenty of caves and slinky blonde beaches to stop at along the way. Top right: Ao Kantiang, Ko Lanta.
Ko Phi-Phi
One of Thailand's most famous spots, Ko Phi-Phi deserves all the praise it gets. Stunning azure waters, gorgeous beaches, and breath-taking limestone cliffs make it a great spot for diving, snorkeling, rock climbing or just ogling the scenery as you toast on a beach. After dark, it turns into a hedonistic mess, with dazed-eyed twenty-somethings carrying around mini-buckets of sweet cocktails and nursing them like drunken Easter Bunnies. Morning headaches are guaranteed, but there are plenty of sandy stretches to sleep it off until the next round.
Phuket
Known mostly for its excellent-value luxury resorts and Patong's hedonism, there's a lot more to Phuket than the brochures tell you. Head to Phuket Town for some gorgeous restored heritage Sino-Portuguese architecture, hike the steamy jungles of Khao Phra Thaew Royal Wildlife & Forest Reserve, take a cooking class, go diving or learn to surf during low season. For beach-side lounging away from the Phuket buzz, try the northern beaches like Hat Nai Thon or to the south at Laem Phanwa. Right: Luxury accommodation, Phuket.
Ko Pha-Ngan
Famous for its debauched Full Moon Parties and all-night techno-fun, Ko Pha-Ngan has graduated from a sleepy bohemian island to full-on attraction for all types of travelers. The beach shanties are becoming more boutique, so comfort seekers and families have an alternative to Ko Samui. And on the northern and eastern coasts, hammock hangers can still escape enough to feel like a modern castaway (a well-fed one, of course). Just offshore is Sail Rock, one of the gulf's best dive sites.
Ko Kut
Thailand's large island frontier, Ko Kut is a verdant canvas of dense jungle hemmed by pristine beaches – perfect for uninterrupted afternoons of sun worship and calm evenings accented by the meditative hum of the cicada. Although Ko Kut's topography is similar to many of the other islands in the kingdom, with rainforest and waterfalls are hidden deep within, its location at the tip of the Ko Chang archipelago means that the coastal waters glimmer with a unique emerald tint.
Railay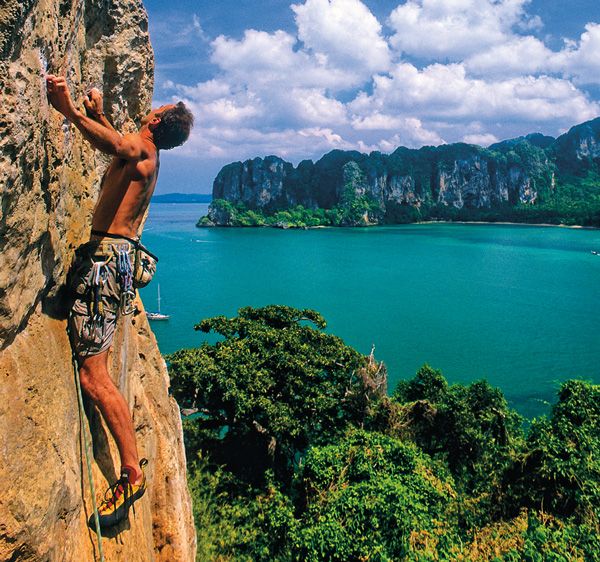 Whether you're a pro or have never grabbed a notch hole in your life, the rock-climbing scene at Railay will get you scrambling skywards with joy. With about 500 bolted routes of limestone walls overlooking some of the world's most spectacular scenery – think vertical grey spires decorated in greenery surrounded by crystalline sea and white beaches – even the shortest jaunt guarantees thrills. Seasoned climbers could stay for months. For even more adventure, try deep-water soloing where the climb ends with a splash in the water below.
Ko Tao
The dive masters island, Ko Tao is the cheapest and easiest spot to learn how to strap on a tank and dive into the deep. The water is warm and gentle, and the submarine spectacles are not to be missed. Just offshore, scenic rocky coves and coral reefs frequented by all sorts of fish provide a snorkeling 'aperitif'. Ko Tao's small size means you can explore all of its jungle nooks and crannies, and find a sandy niche to call your own.
Trang Islands
The early morning sun casts honeylike shadows across another deep-green isle rising out of the blue. The warm wind ruffles your hair and all you can hear is the motor of the long-tail boat. The whole scene is framed by a weathered boat bow decorated in colorful bands of cloth. Your next island-hopping destination is that white beach in the distance – one of many to explore, hike and snorkel – but the boat ride is so extraordinarily gorgeous, it's as enjoyable as being at your destination in the Trang Islands.