Bacuit Archipelago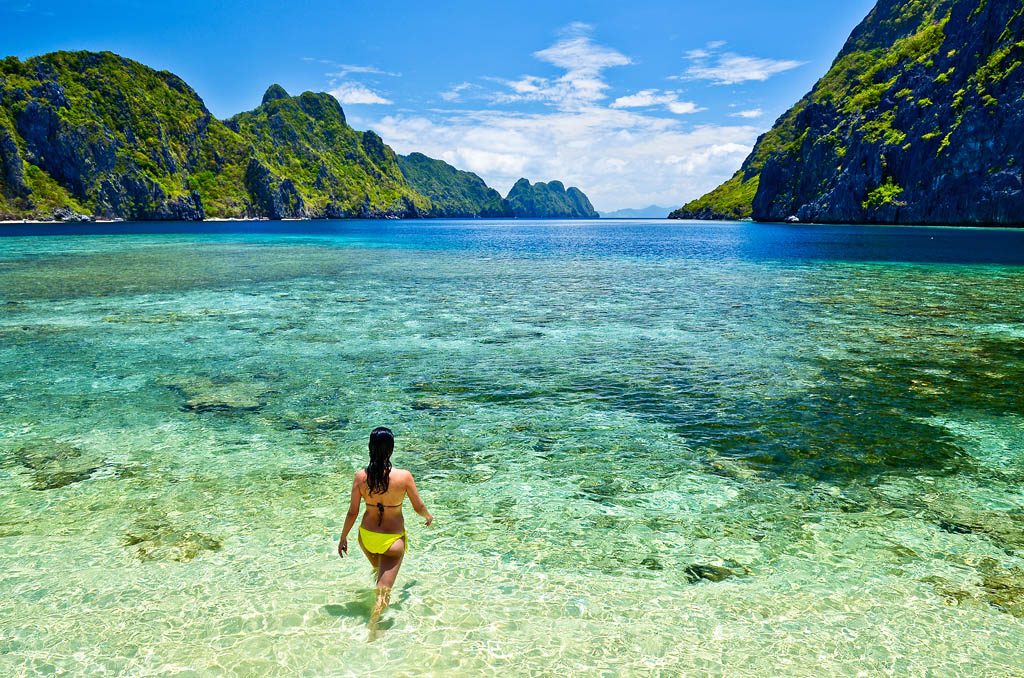 Cruising through the labyrinthine Bacuit Archipelago of northern Palawan, past secluded beaches, pristine lagoons and rocky islets, is an experience not to be missed. Only a short bangka (wooden boat) ride from the easygoing coastal town of El Nido, Bacuit Bay presents a thrilling mixture of imposing limestone escarpments, palm-tree-lined white-sand beaches and coral reefs. Overnight island-hopping trips in the bay or further north through the Linapacan Strait towards Coron offer an opportunity to bed down in remote fishing villages where the daily catch is grilled for dinner.
Ifugao Rice Terraces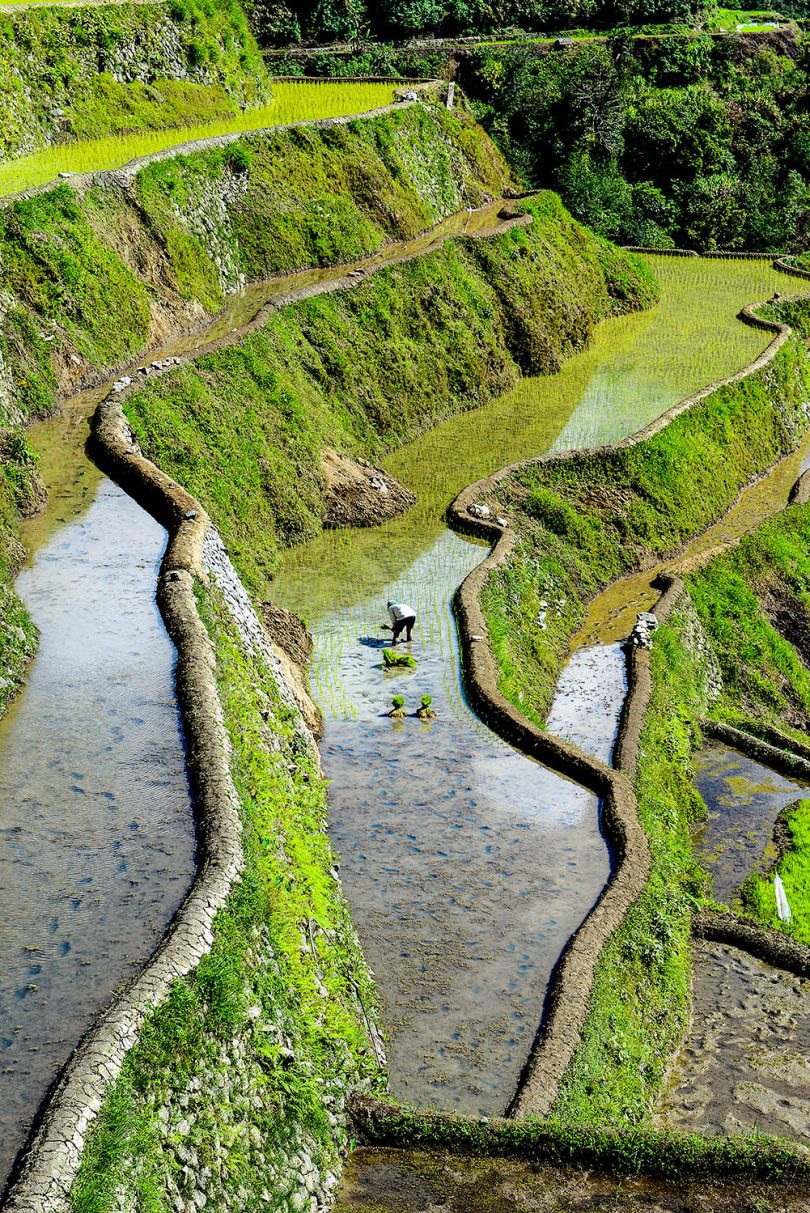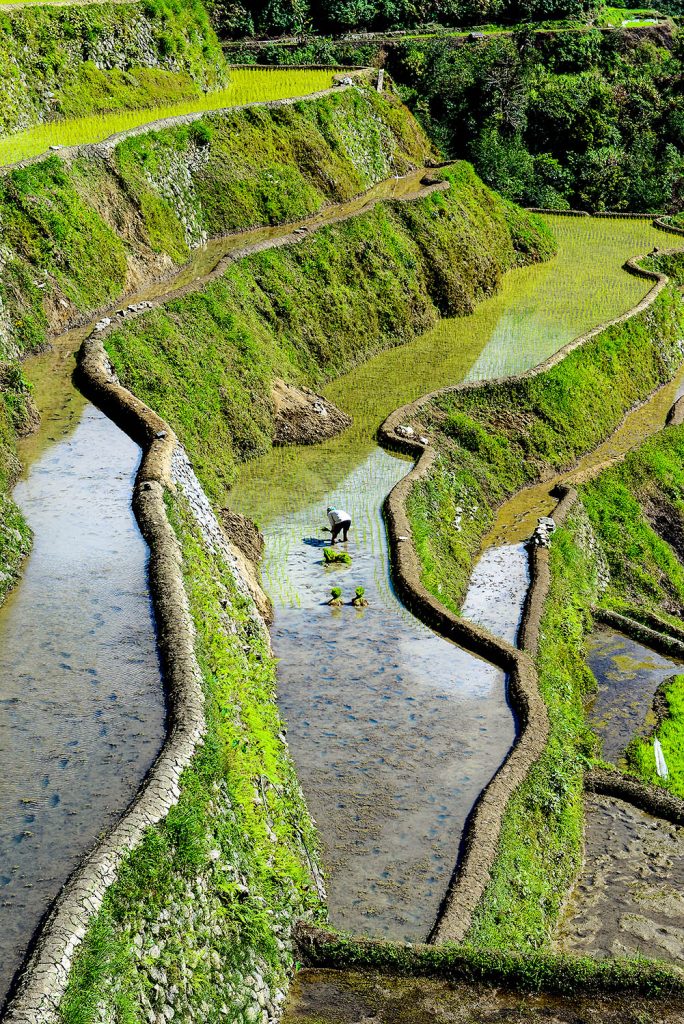 It's easy to look at a map of North Luzon and assume the Cordillera is all untamed wilderness. And yes – there's rugged jungle. But what really strikes a visitor to Banaue, Batad and the other towns of Ifugao is how cultivated the mountains are. Even the sheerest cliffs possess little patches of ground that have been tilled into rice paddies. Take all those patches together and you get a veritable blanket of upland-tilled goodness, an unending landscape of hills rounded into rice-producing lumps of emerald.
Beaches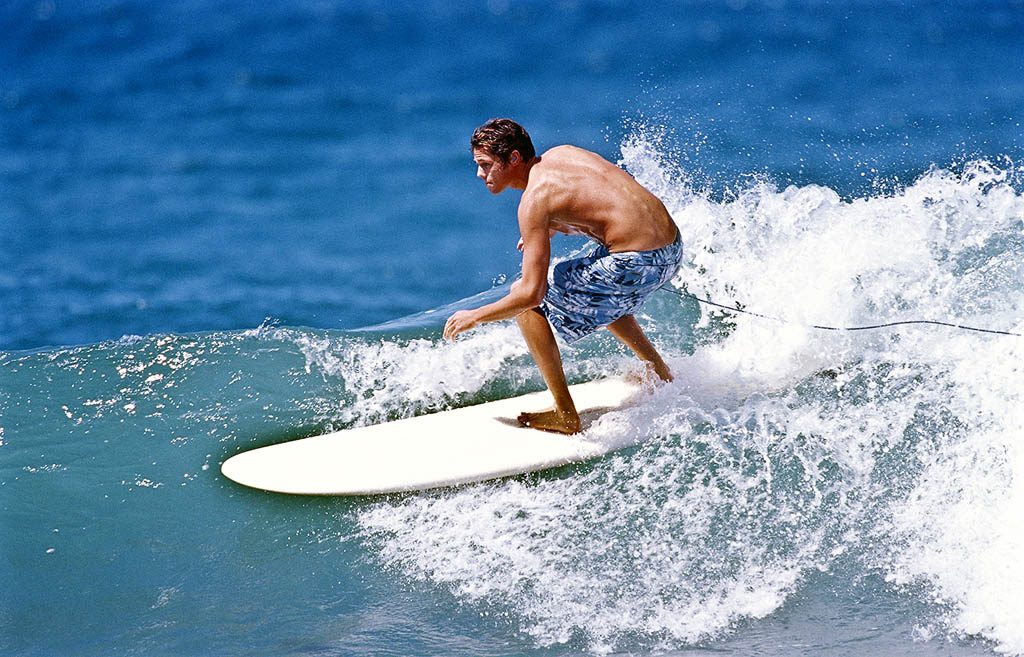 Nothing defines the Philippines more than a remote strip of pearly white sand – there's at least one made-to-order beach on each of the country's 7000+ islands. Want to be far away from everybody? It's almost too easy – most of Luzon is ringed by deserted beaches, while your own private island awaits in Palawan's Calamian Group (Click here) around Coron.
Fiesta Time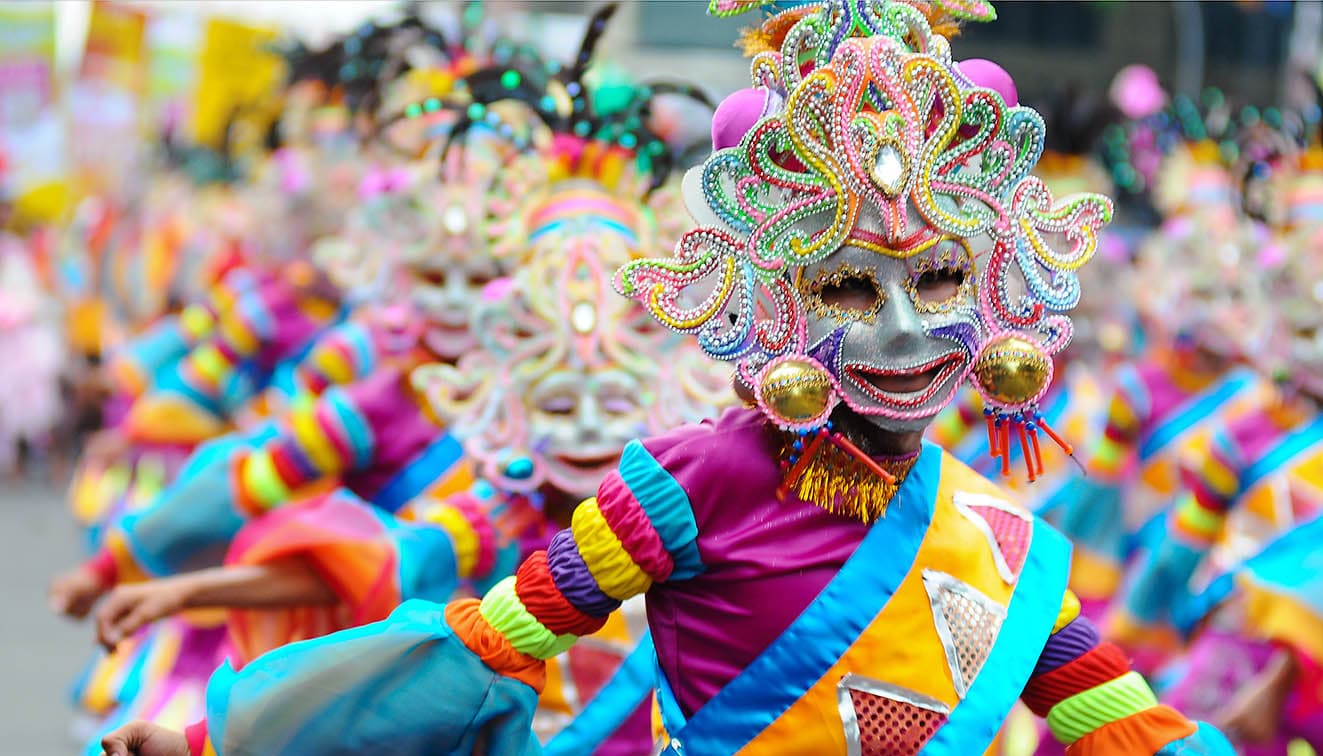 The Philippines just isn't the Philippines without the colourful festivals, or fiestas, that rage across the country throughout the year. Even the tiniest little barangay (village) holds at least one annually. The grandaddy of them all is the Ati-Atihan Festival in Kalibo. At Bacolod's MassKara Festival and Marinduque's Moriones Festival, mischievous masked men stir the masses into a dancing frenzy. The Easter crucifixion ceremony in San Fernando, north of Manila, produces a more macabre tableau, with Catholic devotees being physically nailed to crosses.
Southern Negros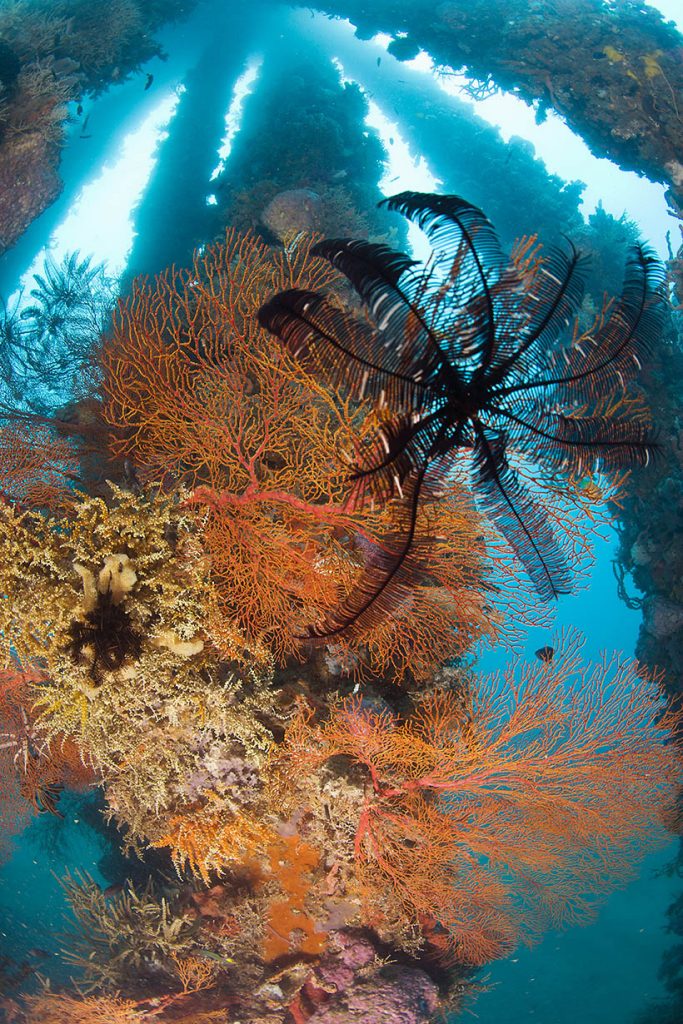 The 'toe' of boot-shaped Negros offers a little of everything: World-class diving at Apo Island, trekking on Twin Peaks, dolphin- and whale-watching at Bais and perfect beaches pretty much everywhere. As if that weren't enough, wonderfully quirky Siquijor lies just off the coast. It's all within an hour of Dumaguete, an agreeable city in its own right, with lively restaurants and bars plus an airport. No need to worry about advance planning here. Just parachute in and follow your nose. We guarantee it will lead you to somewhere special.
Manila Culture & Nightlife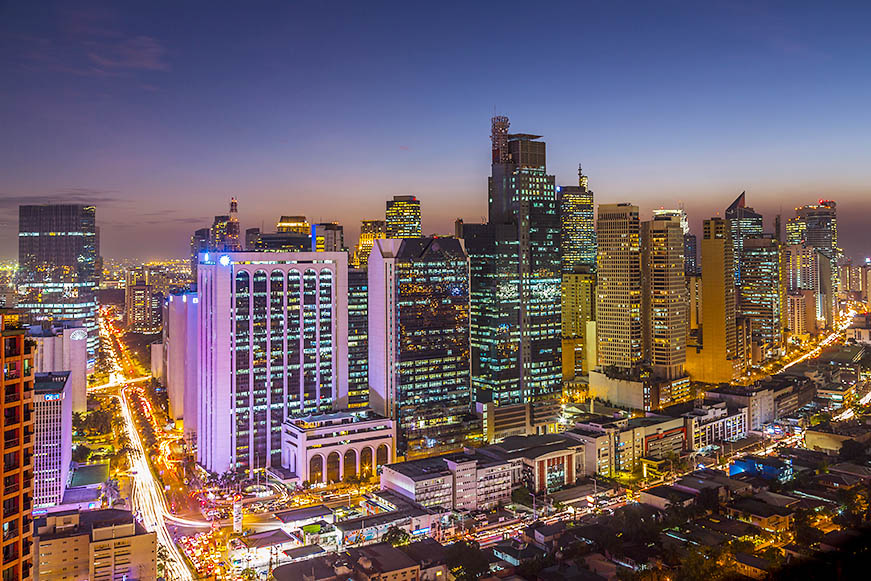 Contrary to popular belief, there's more to this megacity than just traffic and noise. Manila's nightlife is second to none. From the bongo-infused hipster hang-outs of Quezon City and Cubao X to Makati's sizzling bars and chi-chi nightclubs, there's something for everyone. The museums are absolutely world-class, and in contemporary art and design circles, Manila is Asia's rising star. Eternally classy Intramuros oozes history. Even the long-maligned culinary scene is finally emerging, as cutting-edge restaurants open alongside earthy cafes and craft-beer bars.
Bicol Adventures
Southeast Luzon, geographically defined by the Bicol peninsula, is becoming adventure-travel central for the Philippines. Besides boasting some of the best regional cuisine in the islands, Bicol is a top draw for water and adrenaline junkies via the CamSur Watersports Complex, where wakeboarding rules the roost. Daet, Camarines Norte, is a burgeoning surf and kitesurfing destination. To experience a more laid-back connection to the water, head to the edge of Luzon and snorkel alongside the gentle whale sharks of Donsol – an unforgettable highlight.
Sagada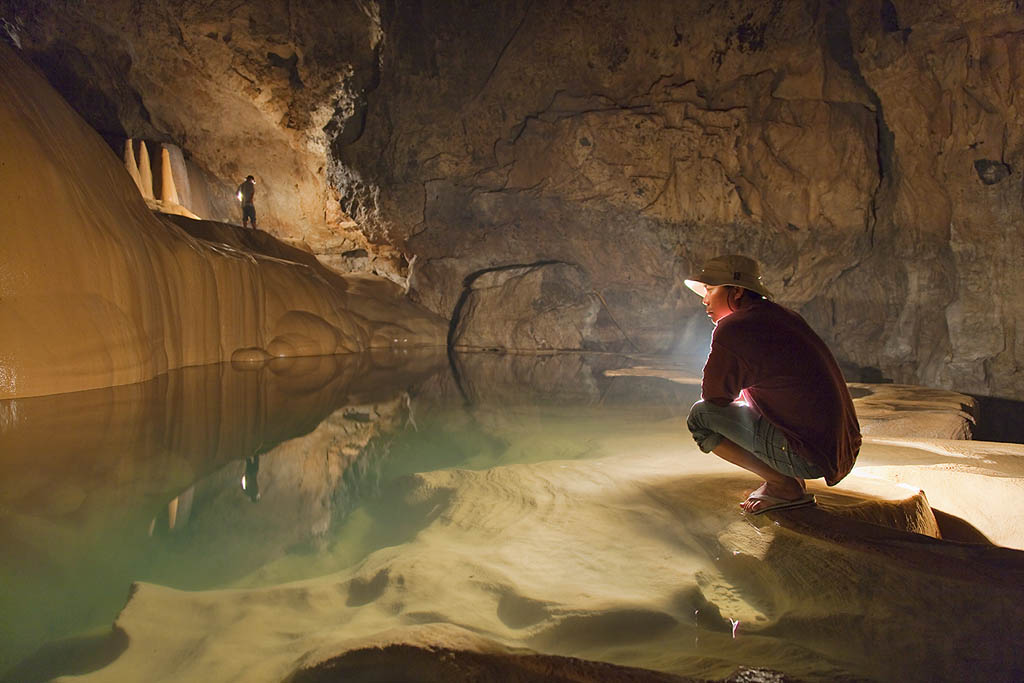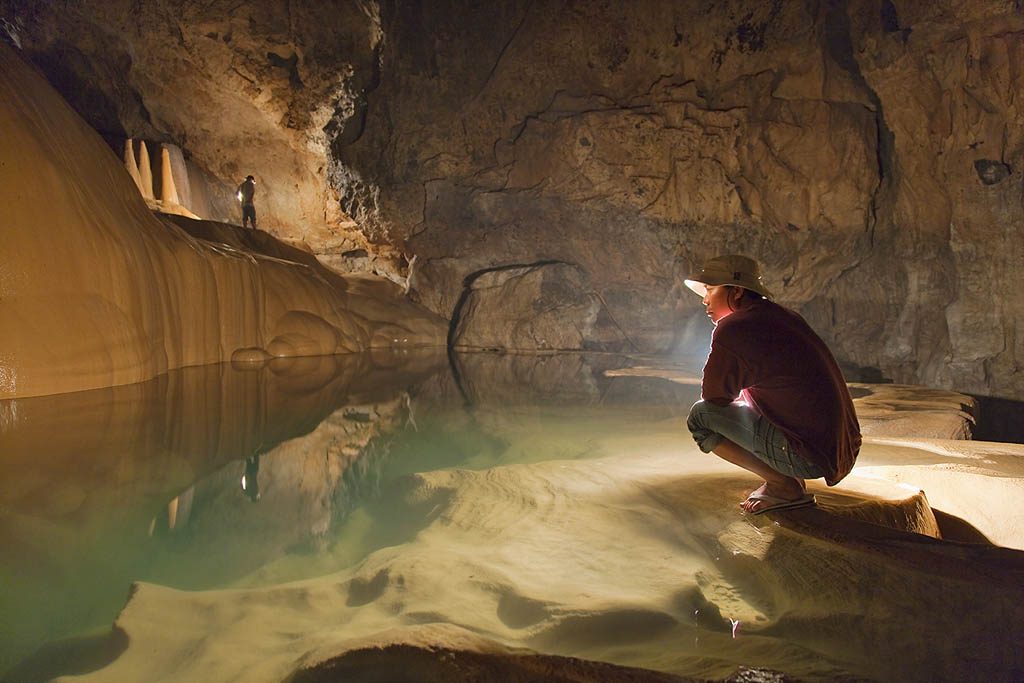 Sagada is the Philippines' cradle of cool, a supremely mellow mountain retreat deep in the heart of the wild and woolly Cordillera mountains of North Luzon. It has all the elements of a backpacker Shangri La: awesome hikes, eerie caves, hanging coffins, strong coffee, earthy bakeries, and cosy and incredibly cheap accommodation. Fuel up on granola and head out in search of adventure, or chill out in a fireplace-warmed cafe all day reading books or swapping yarns. There are no agendas when you're on Sagada time.
Boracay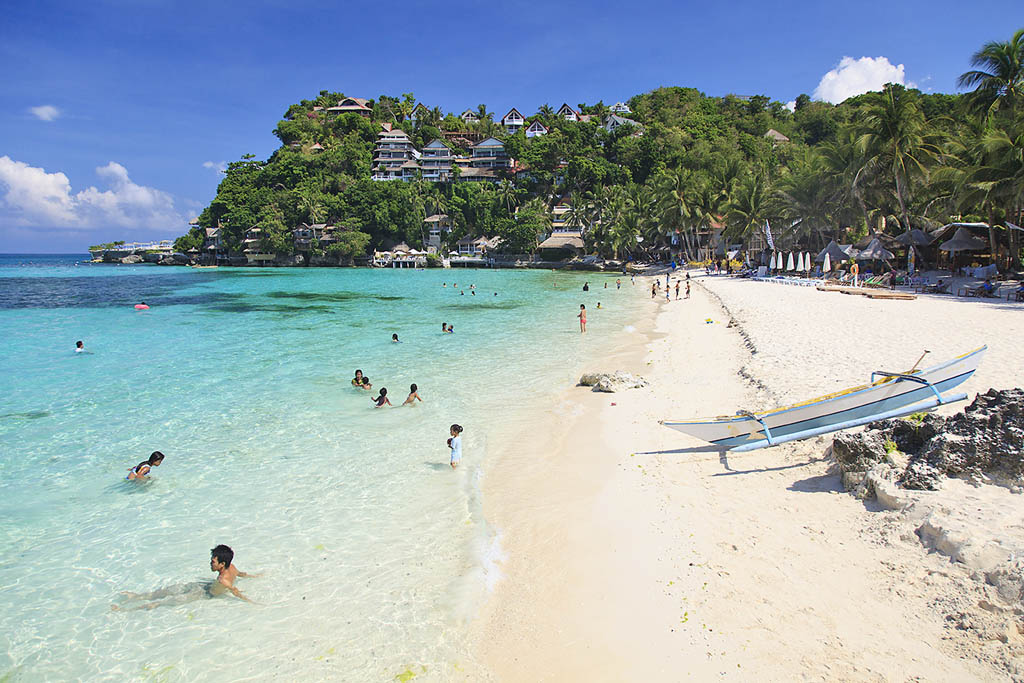 It wasn't that long ago that Boracay was a sleepy, almost unknown backwater. Oh, how times have changed. The world has discovered Boracay, elevating the diminutive island into a serious player in the pantheon of Southeast Asian party beaches. Yet for all that's changed, Boracay remains generally mellower than the likes of Kuta Beach or Ko Samui. And solace can still be found, in particular at the southern end of Boracay's signature White Beach, where the spirit of the old Boracay lives on.
Siargao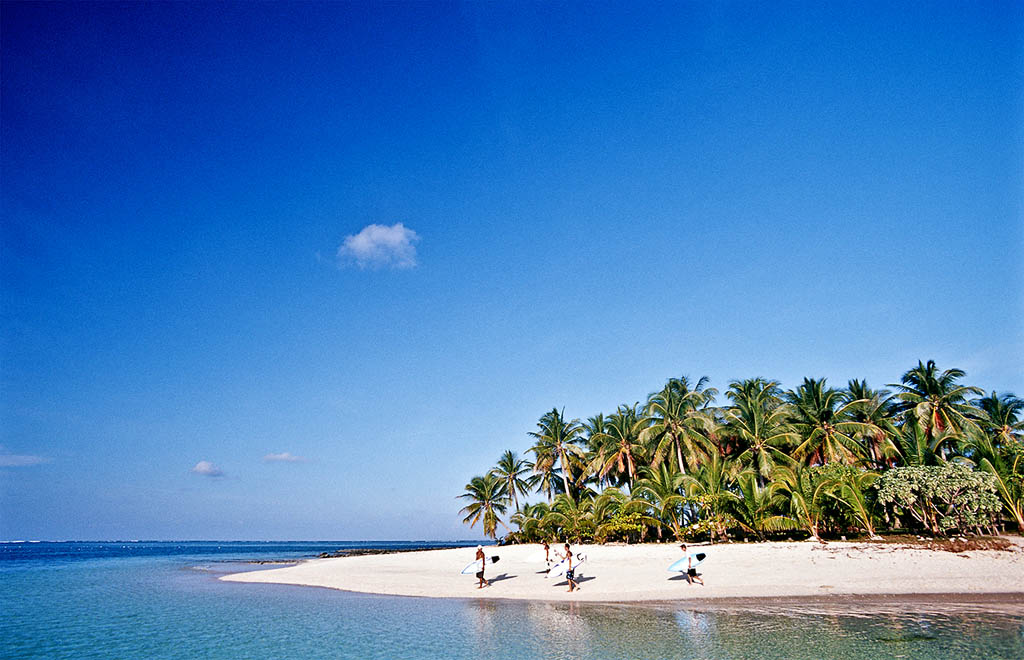 A chill-out vibe and friendly breaks for both experts and novices make this island the Philippines' top surf destination. The legendary Cloud Nine break is the hub but waves abound elsewhere; head to tranquil Burgos in the north for an undeveloped experience or take a surf safari to seldom-visited spots. Nonsurfers also have plenty to do, from island hopping to snorkelling to some of the country's best deep-sea fishing. Or just grab a beer on the Cloud Nine pavilion and watch the pros do their thing.
Bohol Nature & Wildlife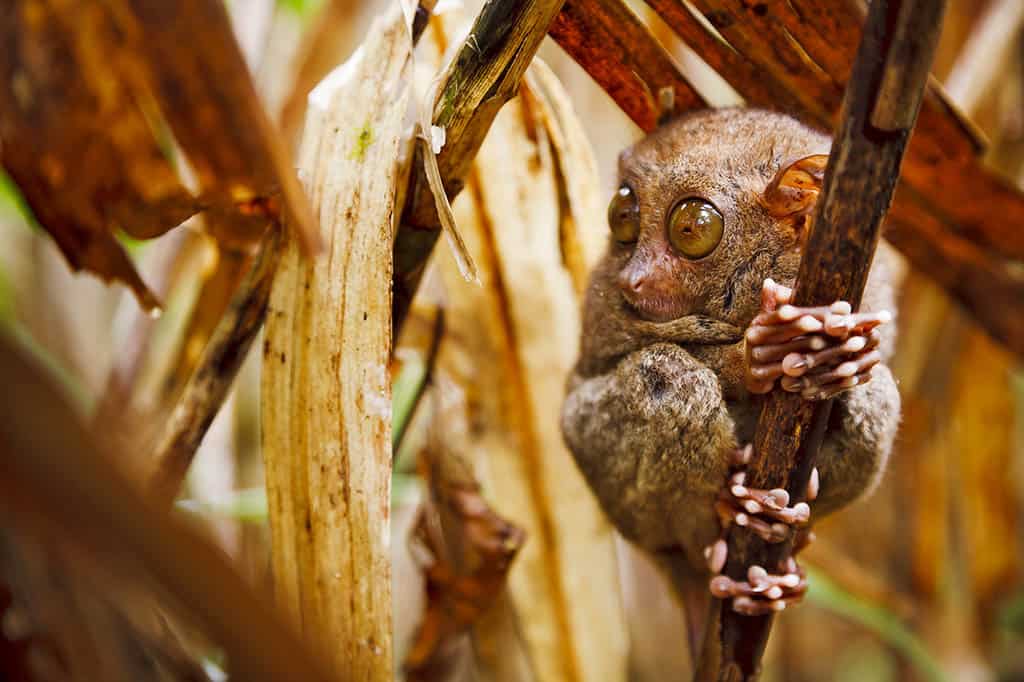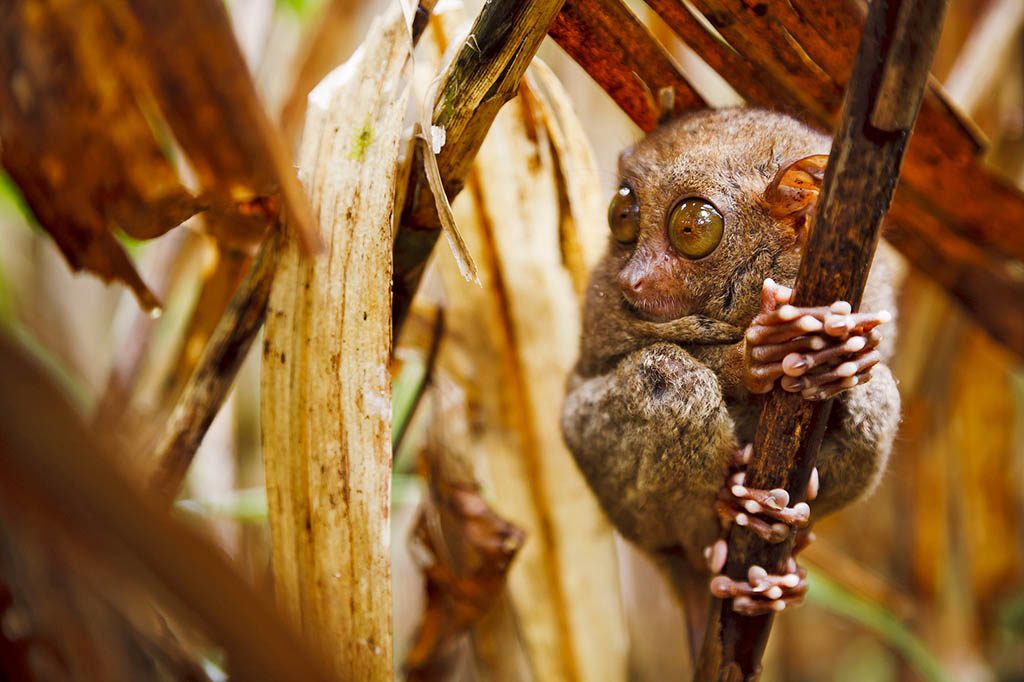 While most visitors to Bohol are divers bound for touristy Alona Beach, the real charms of this central Visayan island lie deep in its interior. Perhaps no island in the country is better suited for a half-week romp by motorbike. Perfectly paved roads lead through jungle to peacock-green rivers, chocolatey hills, dramatically placed ziplines and cuddly little tarsiers. The island took a gut-punch with the 2013 earthquake, which toppled many of its centuries-old Spanish churches. Bohol bounced right back though, and is better than ever.
The Batanes Islands
The Batanes, where women still wear haystack-like headgear and folks live in traditional stone-and-cogon-grass houses, are far removed (both geographically and culturally) from the rest of the archipelago. You can sample the islands' unique dishes and overnight in simple homestays to experience the daily rhythms of the farming and fishing life. Feeling more active? Cycle the pristine, strikingly beautiful coastlines of Batan and Sabtang islands and hike the hills, rolling pastureland and extinct volcanoes of the interior.
Climbing Volcanic Camiguin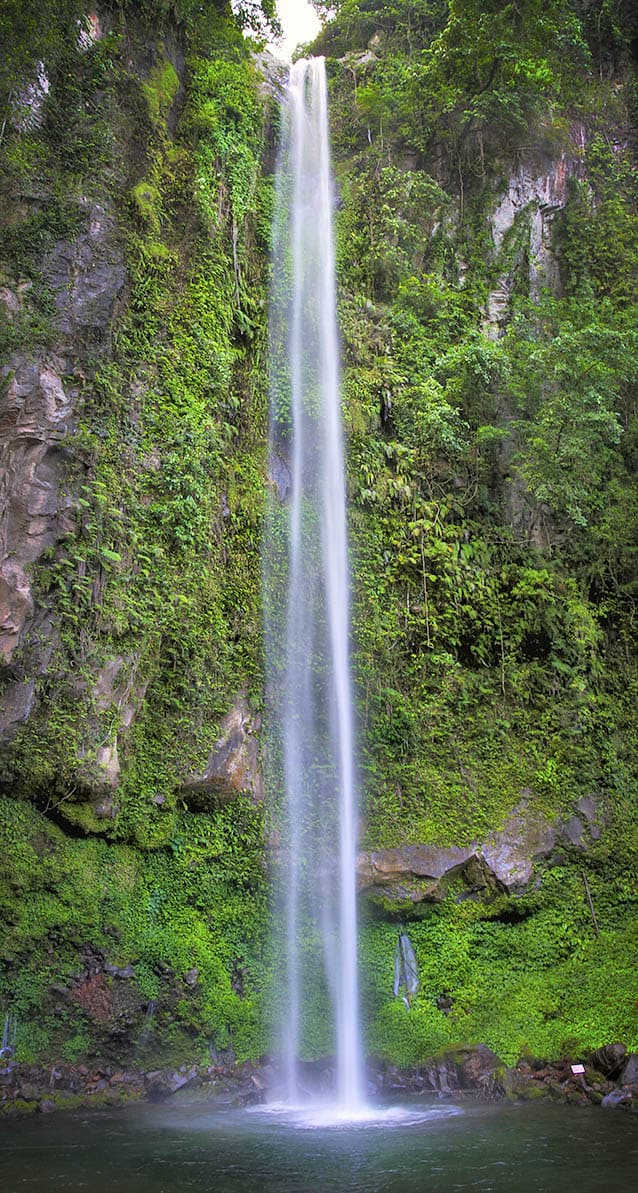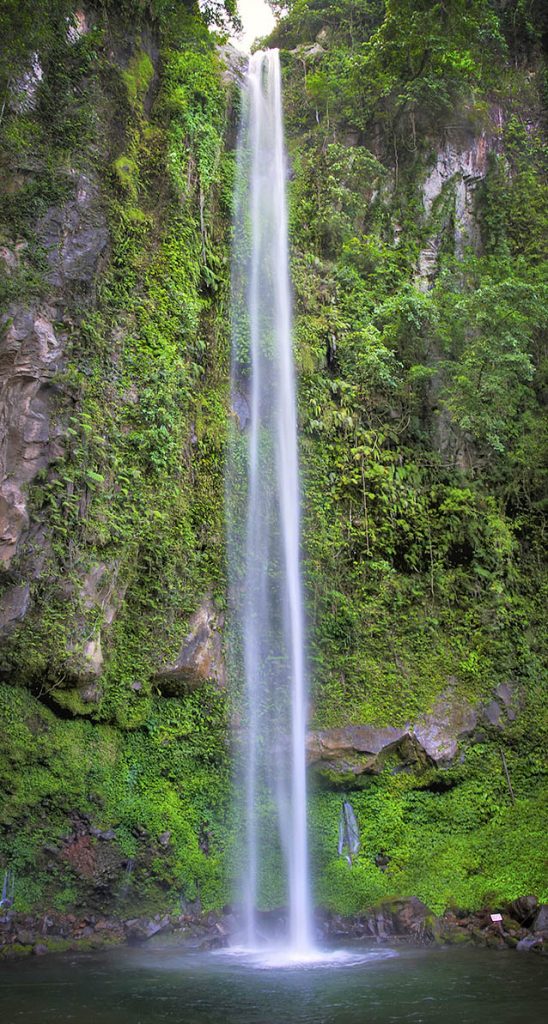 From the northern coastline of mainland Mindanao, the rough-hewn landscape of volcanic Camiguin is camouflaged by its lush silhouette. To truly grasp this island's inspiring topography, veer into the interior on roadways that carve through dense forests and culminate in rocky pathways that trail further up into the highlands. Made for do-it-yourself adventurers, Camiguin's peaks and valleys offer streams for scrambling, mountains for scaling, canyons for rappelling and pools at the base of thundering waterfalls in which to wash off the day's exertions.
Cebu Sand & Sea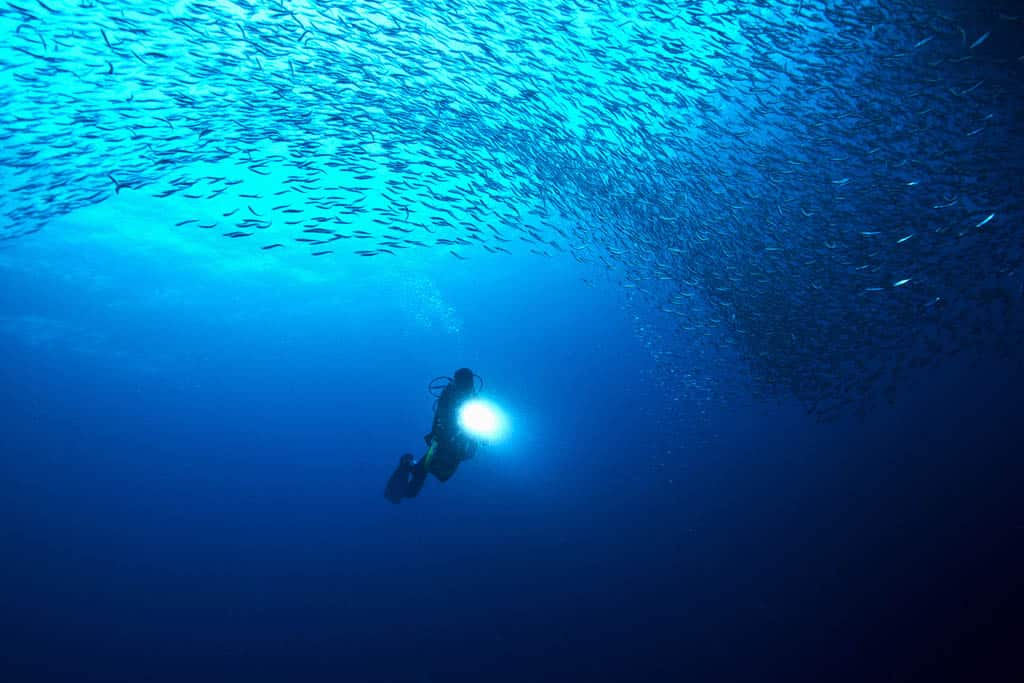 Cebu is your quintessential beach lovers' paradise. Around the island, sandy coves and dramatic cliffs abut an unbroken ribbon of turquoise water. Off the west coast, a wall attracts rich marine life and scores of divers to places like Moalboal, where schooling sardines present an umissable spectacle. Offshore, Malapascua and Mactan islands are dive meccas known for thresher sharks and turtles, respectively, while Bantayan is the place to get catatonic on the sand. At the heart of it all is the fun and frivolous Visayan capital, Cebu City.
Puerto Galera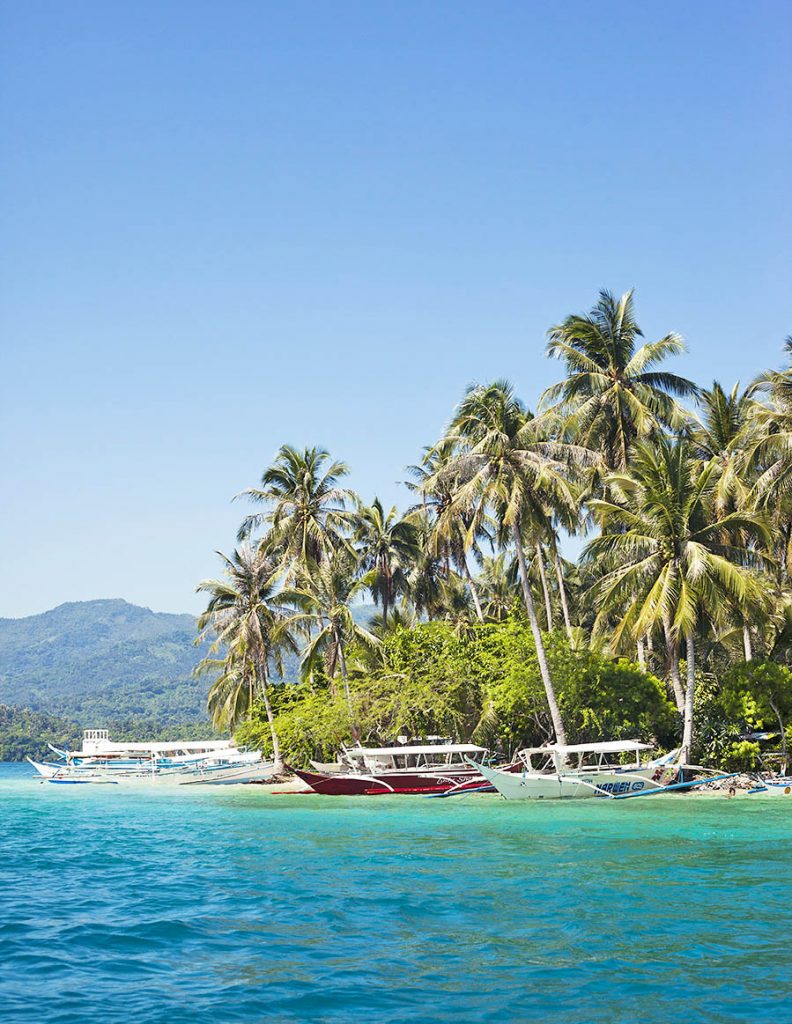 Puerto Galera on Mindoro is well known as one of the Philippines' dive meccas. Lesser known is that it's also among the most beautiful places on the planet. Serpentine roads leading out of town afford birds-eye views of gorgeous bays and little islands offshore, while jungle-clad mountains provide a dramatic interior backdrop. Trek to isolated hill-tribe villages by day, then return to base and enjoy a sumptuous five-course Italian meal by night. It's the perfect 'wow' setting for the must-attend Malasimbo Music & Arts Festival in February.