Business travelers and tourists, alike, travel to various locations and expect to have peace of mind when choosing the hotel they will stay with.  Unfortunately, guests are often targets for scams.  What many people don't realize, hotels are one of the major places where people are separated from their money.  Even those who are vintage travelers often fall prey to hotel scams, proving that even the savviest of travelers can be taken for a ride.  To avoid hotel scams takes knowing what to look out for before you set off on your next vacation or business trip.
Our goal is to inform you how to protect yourself from being scammed.
1. The Food Delivery Scam:
Most hotels do have menus that are in the desk drawer for guests to use if they would like to stay in instead of going out to eat somewhere.  Fake menus are printed to look exactly like the real deal.  They are slid under the doors of guests' hotel rooms inviting them to order food from them.  In many cases, when the guest calls the restaurant, they are required to pay with a credit card. Unfortunately, the food never arrives but the scam artists now have their credit card information.
Probably the safest way to protect yourself is to check with the front desk to find out if this is a legitimate restaurant.  You can also search on the internet to find out if this is an authentic restaurant or not.  Another hint, most hotels do not slide menus under the guest room doors, so always double-check before placing an order.
2. The Free Wi-Fi Scam: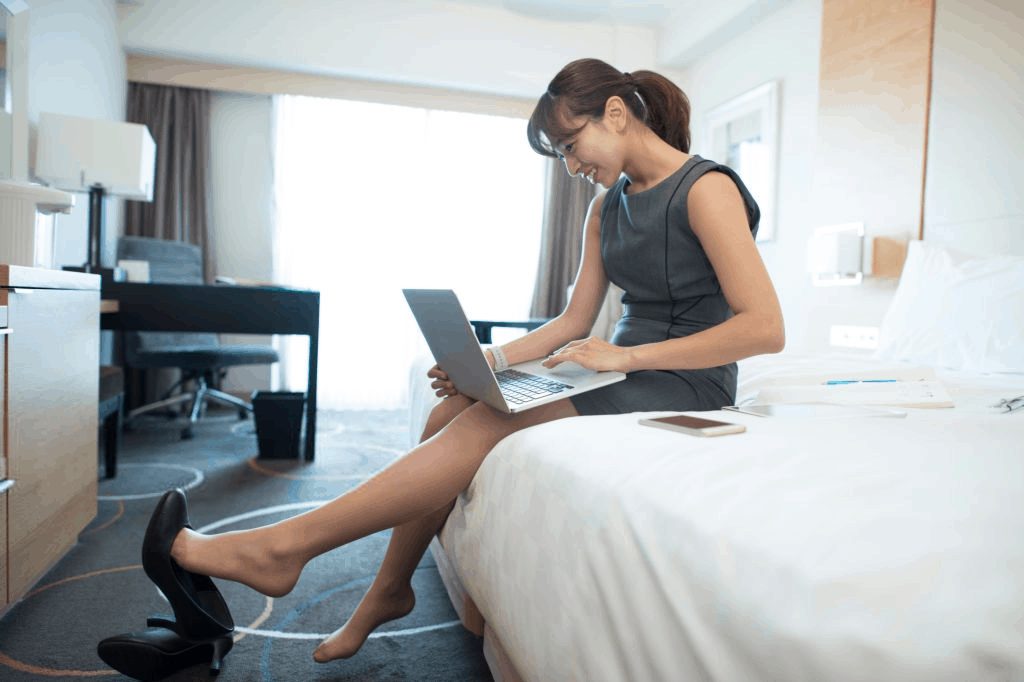 Most people travel with their laptops and cell phones so they can access the internet.  Being offered free Wi-Fi is always welcomed, however, wireless internet has become a growing target for scamming guests. Once you have accessed the internet with this so-called free Wi-Fi, your computer/phone is routed through various locations including the computer of the con artist.  These people have complete control over the connection and can easily collect all the data you are transmitting such as your passwords, usernames, and the websites you are visiting.
Our best advice, before getting on the internet, you should make sure you have a secure connection.  Most hotels that offer Wi-Fi have a two-step verification that will require a password.  Other secure networks will list the name of the specific hotel or hotel chain in the network ID and usually have printed material at the hotel for you to look over. Always check with the front desk to find out what their Wi-Fi policy is and how you can connect using their chosen network.
3. The Credit Card Scam Coming From The Front Desk: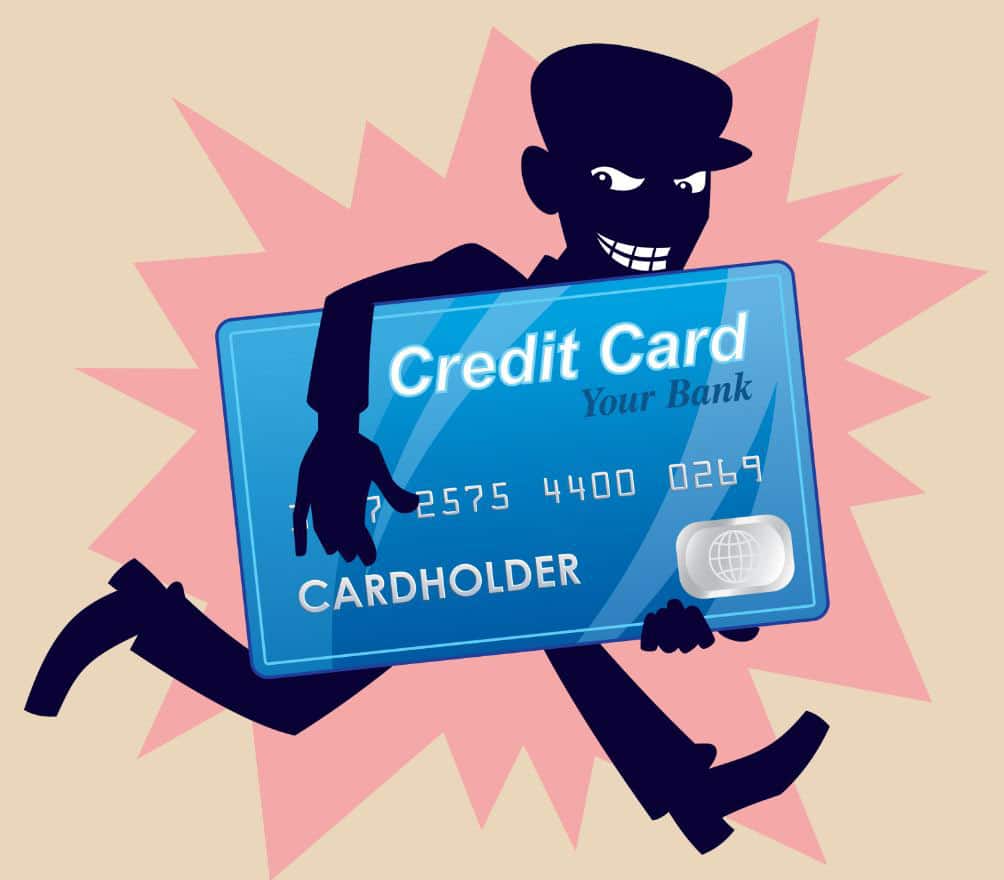 It's common practice when you check into a hotel you provide a credit card to pay for the deposit on your room and for charges you might make at the hotel, such as their in-house restaurant.  You settle into your room and then receive a phone call, supposedly from the front desk.  They inform you that there is a problem with your credit card number and request you read back your card number as well as the security code on the back of the card.
Beware – the receptionist at the front desk is not calling you!  This is a scammer who simply called the hotel and asked to be connected to your room. In most cases, the front desk will ask the caller for the name of the person they are trying to connect to.  Unfortunately, sometimes they are really backed up and these callers will get through without any further information being provided to the desk.  In other cases, these calls come in at night when you've already settled in and are not likely to get up, get dressed, and go down to the front desk to find out what's going on with your card.
Usually, the hotel where you are staying has been in business for a very long time so make sure you pay attention to calls that request private information.  First off, never give your credit card information out over the phone.  Tell the caller you will come down to the front desk to clear up the situation.  Also, it's unheard of for a hotel to call your room late at night to address an issue with your card when they can deal with it in the morning.  If you get a call that's asking for your credit card information, a siren in your head should go off.  If you find out nothing is wrong with your card, make sure you let the hotel know about the call you received at night.
4. The Online Hotel Booking Site Scam: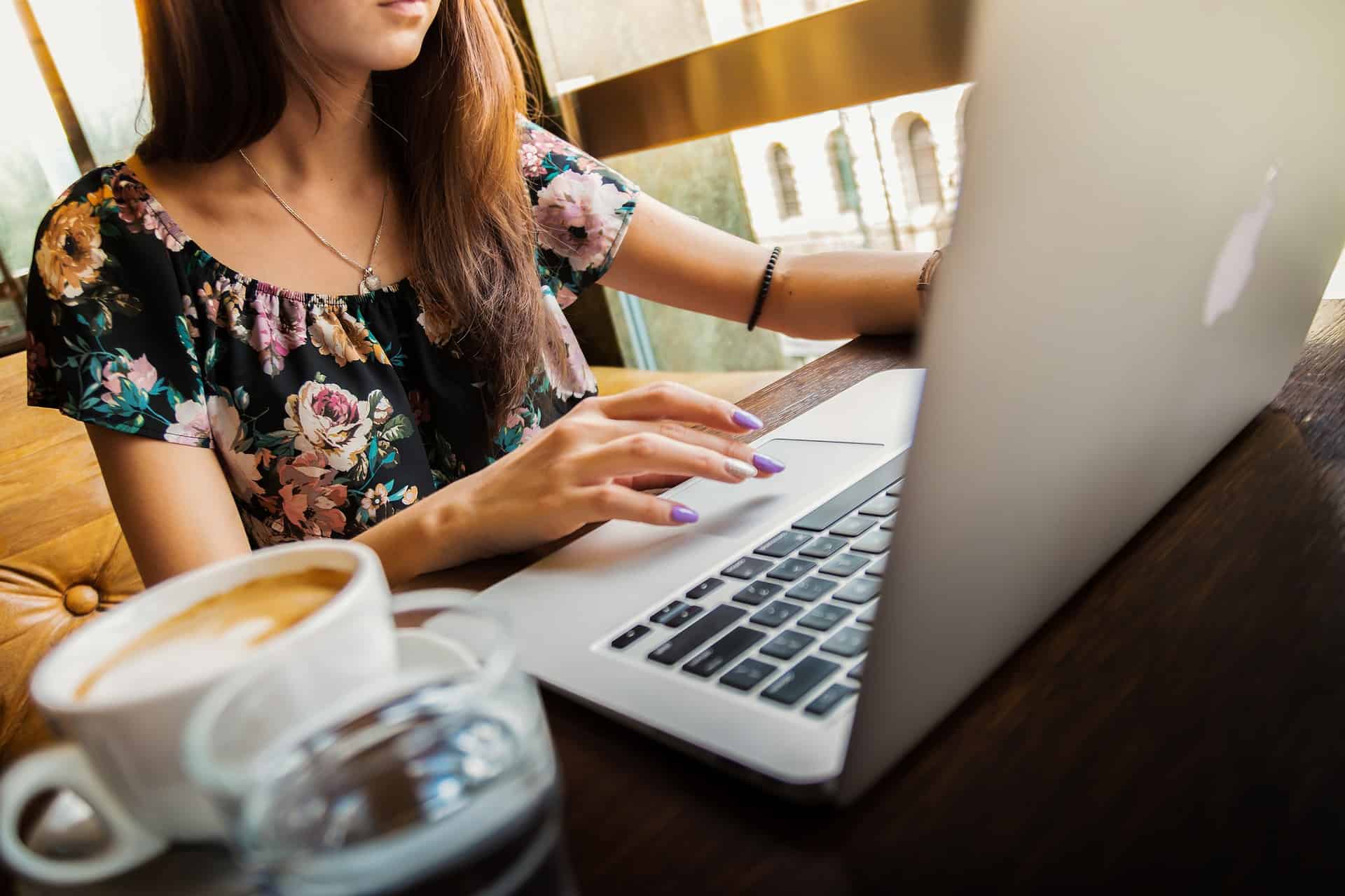 These days, most people opt to book their hotel reservations online such as Trivago, Expedia, and Booking.com.  Just make sure the site is legitimate, especially if it's a website you are not familiar with.  The site might offer a nice discount and will allow you to pay through them and provide you with a confirmation number.  Then you take off to your destination and discover the hotel has no record of your reservation and find you out they have never conducted business with the site you booked through.
Your best defense, only books with established, well-known websites.  If you go to a site you have never heard of but offer really low prices, unlike other sites, beware! If you are uncertain, give the hotel a call and find out if they have ever worked with these people and whether they are legitimate or not.
5. The Water Is Unsafe To Drink Scam:
There are many hotels in foreign countries that will leave signs on the guest room doors warning the water is not safe to drink.  You can get bottled water at your minibar or from the front desk but usually at a ridiculous price.
In some cases, the water actually is very safe to drink in your country of destination.  Guests do not need to spend money on bottled water unless they choose to.  If a country's water is not safe to drink, many hotels will offer free bottled water to their guests but when you check out, you discover they charged for the so-called free water.
It's a good idea you do your own research online to find out if the country you are traveling to has safe water for drinking or not instead of relying on information from the hotel.
6. Not Real Hotel Cleaners: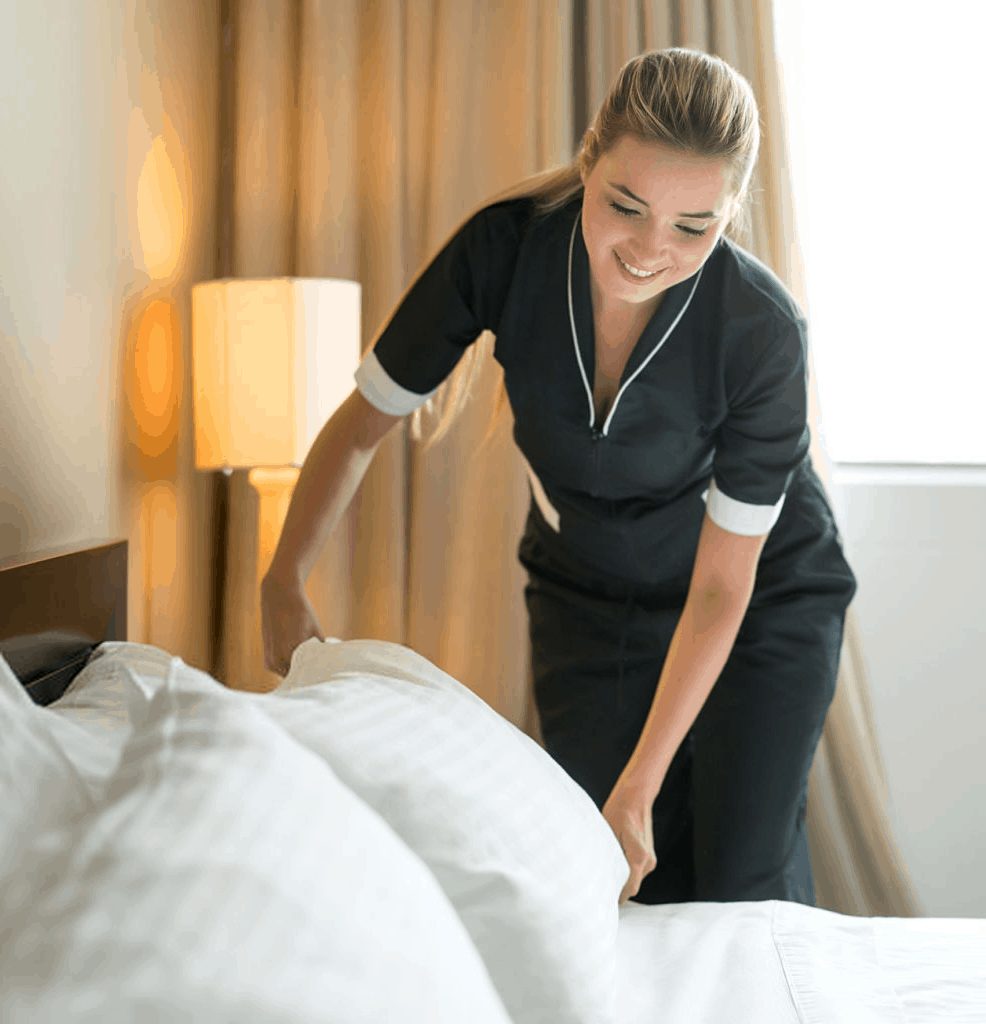 Hotels have cleaners that stop by to clean your room, change the bedding, or just tidy up.  When on vacation, we all love coming back to a nice clean room to relax in.  Unfortunately, there are scammers claiming they are hotel cleaners, especially in Barcelona and Madrid, so beware.
One trick they use, one of the cleaners will talk to you, keeping you distracted as the other surveys the room and steal your possessions. Be aware of any form of room inspection or other strange habits by these phony cleaners.  Keep in mind, when cleaners come to your door, you can deny access, wishing not to be disturbed. If you have suspicions about the situation, call down to the front desk and find out if these people are associated with the hotel.  If they are not sure because they have quite a few maids, they will probably send someone up to check them out.
7. Holding Your Passport Until You Pay Scam:
So, you travel to another country and find a hotel that seems like a nice place to stay.  They tell you the room will cost $15 a night so you agree to the price and stay for a few nights.  When it comes time to check out, the hotel changed their song and dance and said the cost is $25 a night!
Because nothing was in writing, it's your word against theirs.  Adding to that, many of these hotels will take possession of your passport upon checking in and then tell you they will not give it back to you until you pay the full price!
The best advice, to avoid this kind of scam, make sure when you are quoted a price for a room you get it in writing and then try and pay for the room upfront to prevent them from upping the rate.
Also, the hotel should never take possession of your passport.  They might need it to verify information but not hold on to it! One trick people have used, go to the front desk and request your passport so you can book your future flight online, then just never give it back to them.  They will not be able to use it to demand a higher price for the room when you check out.
In Summary:
These are just some of the most common hotel scams that you should keep an eye out for when you are on vacation or on a business trip. Try to be aware of these scamming practices so you will not end up with headaches from being ripped off while you are traveling.