Norway is a once-in-a-lifetime destination and the essence of its appeal is remarkably simple: this is one of the most beautiful countries on earth.
The counterpoint to Norway's ever-present natural beauty is found in its vibrant cultural life. Norwegian cities are cosmopolitan and showcase the famous Scandinavian flair for design through the ages. Bergen, Trondheim, and Ålesund must surely rank among Europe's loveliest cities, while contemporary Arctic-inspired architectural icons grace cities and remote rural settings alike. Food, too, is a cultural passion through which Norwegians push the boundaries of innovation even as they draw deeply on a heartfelt love of tradition. At the same time, a busy calendar of festivals, many of international renown, are worth planning your trip around.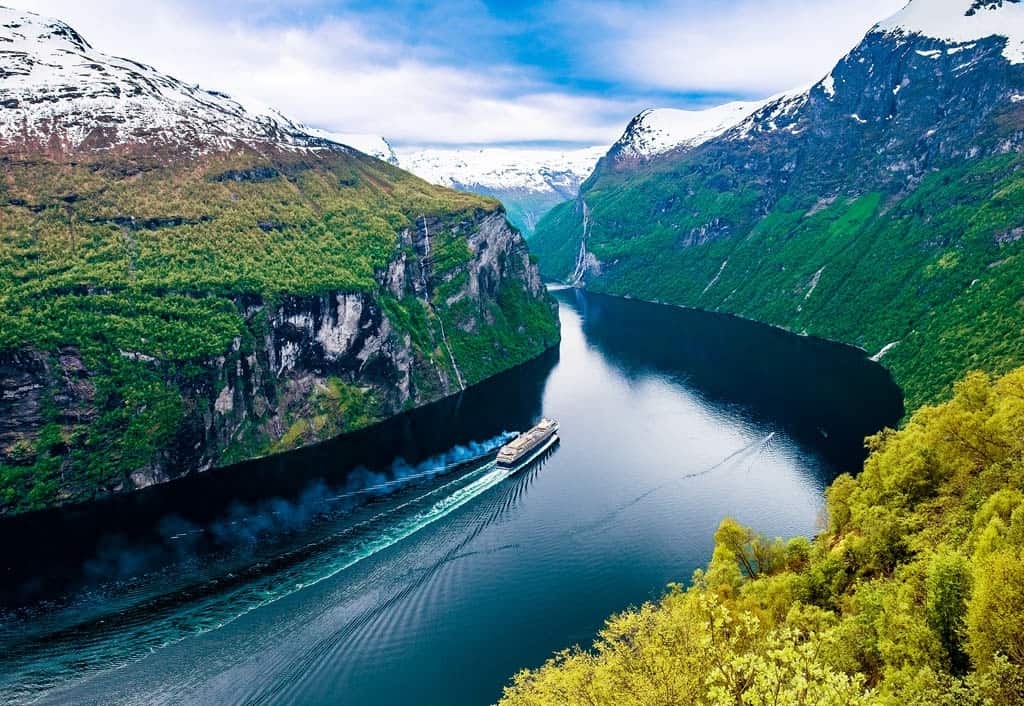 The 20km chug along Geirangerfjord, a Unesco World Heritage site, must rank as the world's loveliest ferry journey. Long-abandoned farmsteads still cling to the fjord's near-sheer cliffs while ice-cold cascades tumble, twist and gush down to emerald-green waters. Take it from Geiranger and enjoy the calm as you leave this small, heaving port or hop aboard at altogether quieter Hellesylt. Prime your camera, grab a top-deck open-air seat and enjoy what's literally the only way to travel Geirangerfjord's secluded reaches.
Few visitors forget their first sighting of the Lofoten Islands. The jagged ramparts of this astonishing island chain rise abruptly from the sea in summer greens and yellows or the stark blue and white of winter, their razor-sharp peaks stabbing at a clear, cobalt sky or shrouded mysteriously in swirling mists. Postcard-perfect villages with wooden rorbuer (fishing huts) cling to the shoreline, while the A-frame racks for drying fish tell of a land and a culture intimately entwined with the sea.
13
Hurtigruten Coastal Ferry
So much more than merely a means of getting around, the iconic Hurtigruten coastal ferry takes you on one of the most spectacular coastal journeys anywhere on earth. On its daily path between Bergen and Kirkenes, it dips into coastal fjords, docks at isolated villages barely accessible by road, draws near to dramatic headlands and crosses the Arctic Circle only to return a few days later. In the process, it showcases the entire length of Norway's most glorious coast.
Set amid a picturesque and very Norwegian coastal landscape of fjords and mountains, Bergen is one of Europe's most beautiful cities. A celebrated history of seafaring trade has bequeathed to the city the stunning (and Unesco World Heritage–listed) waterfront district of Bryggen, an archaic tangle of wooden buildings. A signpost to a history at once prosperous and tumultuous, the titled and colorful wooden buildings of Bryggen now shelter the artisan boutiques and traditional restaurants for which the city is increasingly famous.
There is no more uplifting natural phenomenon than the aurora borealis or Northern Lights. Visible throughout the long night of the Arctic winter from October to March, they dance across the sky in green or white curtains of light, shifting in intensity and taking on forms that seem to spring from a child's vivid imagination. While there's no guarantee that the Northern Lights will appear at any given time, if you are lucky enough to see them, it's an experience that will live with you forever.
The high country of central Norway ranks among Europe's premier summer destinations. Although there are numerous national parks criss-crossed by well-maintained hiking trails, it's Jotunheimen National Park, whose name translates as 'Home of the Giants', that rises above all others. With 60 glaciers and 275 summits over 2000m, Jotunheimen is exceptionally beautiful and home to iconic trails such as Besseggen, Hurrungane and those in the shadow of Galdhøpiggen, Norway's highest peak.
9
Kystriksveien Coastal Route
The lightly trafficked coastal route through Nordland is an experience of rare and staggering beauty. You may not have time for the full 650km but a sample (preferably from Sandnessjøen to Storvik) is all but mandatory if you're progressing northwards. It's not a journey to be rushed. The frequent ferry hops offer compulsory, built-in breaks and stunning seascapes, while both inland glaciers and accessible offshore islands – such as Vega, famous for its eider ducks, or Lovund, home to 200,000 puffins – are seductive diversions.
As lookouts go, Preikestolen (Pulpit Rock) has few peers. Perched atop an almost perfectly sheer cliff that hangs more than 600m above the waters of gorgeous Lysefjord, Pulpit Rock is one of Norway's signature images and most eye-catching sights. It's the sort of place where you'll barely be able to look as travelers dangle far more than seems advisable over the precipice, even as you find yourself drawn inexorably towards the edge. The hike to reach it takes two hours and involves a full-day trip from Stavanger.
There's no finer way to explore the Arctic wilderness than on a sled pulled by a team of huskies. Blissfully free from engine noise and the din of modern life, accompanied by a soundtrack of yelping dogs and the scrape of the sled across the snow, dog-sledding (from half-day excursions to multi-day expeditions) takes you out into the trackless world of Norway's far north and allows you to immerse yourself in the eerily beautiful light of the Arctic winter.
The subpolar archipelago of Svalbard is a true place of the heart. Deliciously remote and yet surprisingly accessible, Svalbard is Europe's most evocative slice of the polar north and one of the continent's last great wilderness areas. Shapely peaks, massive icefields (60% of Svalbard is covered by glaciers) and heartbreakingly beautiful fjords provide the backdrop for a rich array of Arctic wildlife (including walruses and around one-sixth of the world's polar bears), and for summer and winter activities that get you out amid the ringing silence of the snows.
Often cited as one of the world's most beautiful rail journeys, the Oslo–Bergen rail line is an opportunity to sample some of Norway's best scenery. After passing through the forests of southern Norway, it climbs up onto the horizonless beauty of the Hardangervidda plateau and then continues down through the pretty country around Voss and on into Bergen. En route, it passes within touching distance of the fjords and connects (at Myrdal) with the steep branch line down to the fjord country that fans out from Flåm.
All over southern and central Norway, you'll come across wooden stave churches. They come in all forms, from the monumental to the pocket-sized and cute. But no matter what form they take, there's something about them that will stir up hazy memories of childhood. That's because the stave churches of Norway, many of which come enveloped in stories of trolls and are adorned with fantastically carved creatures, are without doubt the very definition of fairy-tale churches, none more so than the spectacular Heddal Stave Church.
Oslo is reinventing itself. This is a city that is aiming to become nothing less than a world-renowned centre of art and culture. It's already bursting at the seams with top-notch museums, art galleries and a glacier-white opera house that could make even Sydney jealous, but in the past couple of years, it has achieved a striking rebirth of its waterfront district complete with daring architecture, a grade-A modern-art gallery, new restaurants, and even a beach. This is a city on the rise and is definitely one to watch.
Snug, tidy Ålesund owes much of its charm to a devastating fire that ripped through its wooden structures a century ago, destroying everything except the jail and a church. From its ashes rose a brand-new town, mostly of stone and mostly designed by young Norwegian architects who had trained in Germany. Strongly influenced by the Jugendstil (art nouveau) movement of the time, they designed buildings rich in ornamentation, with turrets, spires, gargoyles and other fanciful elements based on local motifs. The view from above the town is one of Norway's most iconic.
Snowmobiles have ousted sleds and nowadays only a minority of Sami live from their reindeer herds or coastal fishing. But the Sami culture, transcending the frontiers of Norway, Sweden, and Finland, lives on and is increasingly accessible to visitors, especially in Karasjok and Kautokeino; in the former, the Sami Parliament is a masterpiece of traditional design in mellow wood. And Sami identity lies secure in the language and its dialects, traditions such as the joik (a continuously droned rhythmic poem), and handicrafts such as silversmithing and knife making.